10 Things to Think About Before Designing a Website
Designing a website can seem overwhelming – even if you are hiring someone to create the website for you. There is a lot to think about before you actually start the design process. When a client hires me to help them create a website, these are 10 questions I always ask them before we start building the website.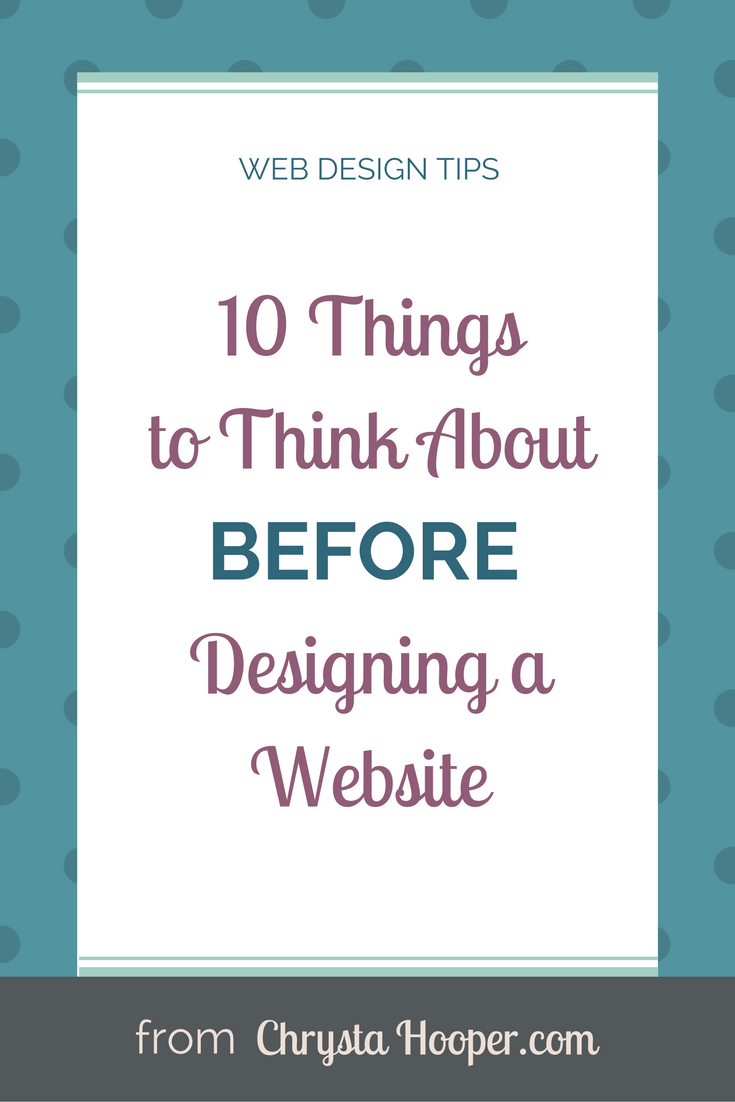 What platform will you use?
There are so many platforms out there that you can create an awesome website with it can be overwhelming! There isn't a right or wrong answer here – you need to decide which platform will best fit your needs. You have options like WordPress, Wix, Squarespace, and so many more!
Personally, I use WordPress for my website and for my clients. While there is a learning curve if you are creating the site and have no experience with WordPress, it is an awesome platform that can easily accommodate growth. There are so many beautiful themes out there (both paid and free ones!) that will fit your needs.
What is the purpose of your website?
Are you creating a portfolio site? Do you want it to be informational (like a brochure)? Or are you going to sell things through your website? Or are you creating a blog?
Clarifying what the purpose of your website before you start building it will help you be specific about what is important to include. Remember, you can always add elements to your website later. If you just have an informational site, you can add on a blog or e-commerce system later.
How will you measure the success of your website?
This is something that many people don't think about before designing/launching a website and it's so important! Having a clear definition of what you consider successful for your site will not only help you while designing the site, you have a goal that is measurable.
Your goal could be as simple as getting a certain number of contacts through the website, have X amount of visitors come to your blog daily, or selling a certain amount of items through the website, etc.
Do you have a style guide or branding already for your website?
Having a style guide or a brand sheet for your business before creating the website is really important! It will make the process of designing the website faster and easier, even if you aren't using a designer to create the website. Sometimes there are too many choices! Having your style guide out while you are creating the site will help you quickly pick fonts, colors, imagery, etc. will staying in line with your brand.
Are you going to have a blog on your website?
Blogs are great for many reasons: it brings people back to your website, can help you with SEO and your google rankings, and it can help establish you as an expert in your field, to name a few. Something many people overlook is the time commitment needed to have a blog on your website. You need to decide how often you want to blog, what exactly you will be blogging about, etc. I recommend that anyone who wants to launch a website with a blog on it should have at least 10 posts already on it before it goes live.
I recommend that anyone who wants to launch a website with a blog on it should have at least 10 posts already on it before it goes live. If you only have 1 or 2 posts it doesn't give you an established look and people might not come back because they can't see the quality of work you put out there!
What other forms of online marketing are you going to use?
To help people find your website, you need to go where they are! Are you going to use Pinterest, Facebook, Twitter, Google Ads? While this doesn't influence the website, it is good to have a game plan before you launch the site. I would recommend making pages/accounts for the platforms you going to use while you are creating the website.
How often are you going to review/revamp your site?
I see so many people spend a lot of time creating their website, and then they don't update it or review it for years! Your business is going to grow and change and you want your website to reflect that! Pick how often you are going to review and possibly update your website.
You might have a better insight of your target audience after a year and will want to make changes to the website that will be appealing to your target audience.
What's your timeline?
I've found that having a timeline helps you (and everyone working with you) stick to a schedule and actually launch your site when you want to. Sometimes it's hard to put things like designing a new website above something else that will pay you now, but you need to think about the long run. Your website will help you make more money in the future.
Are you going to have professional pictures taken?
Pictures are really important on your website! It shows when you don't use professional pictures on your website, and if you are trying to sell something, it's really important to put your best foot forward! I always discuss placement of pictures on a website with a client, some angles might be more powerful than others. This way we can get the best shots from one session!
Who is writing your content?
Having good content on your website is important! So you want the person writing your content to have all the information they need to accurately portray your business! Whether you are writing your own content or if you hired someone to write it for you, make a schedule and stick to it! It can be overwhelming to try to write everything at once, so pick one page and focus on that.
These questions are not listed in a specific order. There are a lot of other important things to consider before designing a website, but these are 10 that I've seen overlooked often! What do you think about when you are designing a website? Let me know in the comments below!