Where to Find Awesome Free Fonts for Your Next Project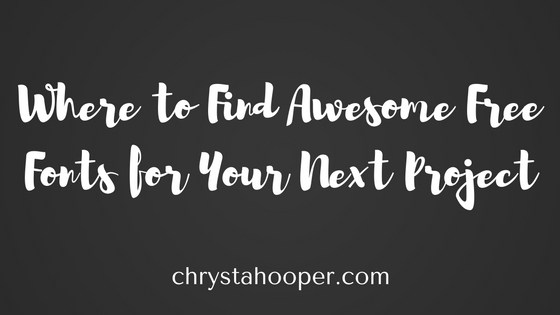 I have a slight obsession with typography and I'm always on the lookout for new fonts to use in my projects. While I don't mind paying for fonts (someone worked hard to make that font!) sometimes I don't have the means to buy a new font for one project. I've created a list of 5 websites I use for new fonts.
1. Google Fonts
Google Fonts is primarily for websites but you can also download them and use them for your print projects. They are open source, which means all the fonts are free to use for personal and commercial projects. They have a wide variety of fonts from script & display fonts to serif and sans serif fonts. If you are using the fonts for a website project, they have a tool that will show you how the fonts you have selected can affect your page's load time.
2. Pixelo.net
While the main focus of Pixelo isn't to offer free fonts, they do have a freebies page. This page offers free fonts and vector templates. They have current bundles where you can buy several fonts for one low price! If you can spend a little money on your design library, these bundles are worth checking out! The fonts on Pixelo are free for commercial and personal use.
4. Creative Market
Creative Market is an awesome resource for designers! You can find a wide variety of tools to help you with your designs. Every week they put out a handful of free items for your use. With each item, you can see on the page what type of license it comes with. Most have a Standard license, which is free for personal projects and you can use it for one commercial product and one end product for sale.
5. Creative Bloq
This blog curates awesome font roundups. While they don't make the fonts themselves, they find the best ones out on the internet and put them in one handy blog post. Sometimes the posts are roundups of free fonts, other times they for fonts you need to purchase. Either way, they make it super easy to know which one you are looking at!
Where do you find new fonts? Do you use sites that I haven't listed in the post? I'd love to know in the comments!