My Go-to Plugins for WordPress
I've been designing websites using WordPress for several years, and I've realized that plugins are amazing! At first, I started using a few plugins to save time coding contact forms and as an easy way to have an under construction message up while you are working on the website. I discovered that there are so many different plugins and I could do more than what I could code myself! In this post, I've listed some of my favorite plugins for WordPress. I don't use all of them on every website I create, but these are plugins that I go to a lot.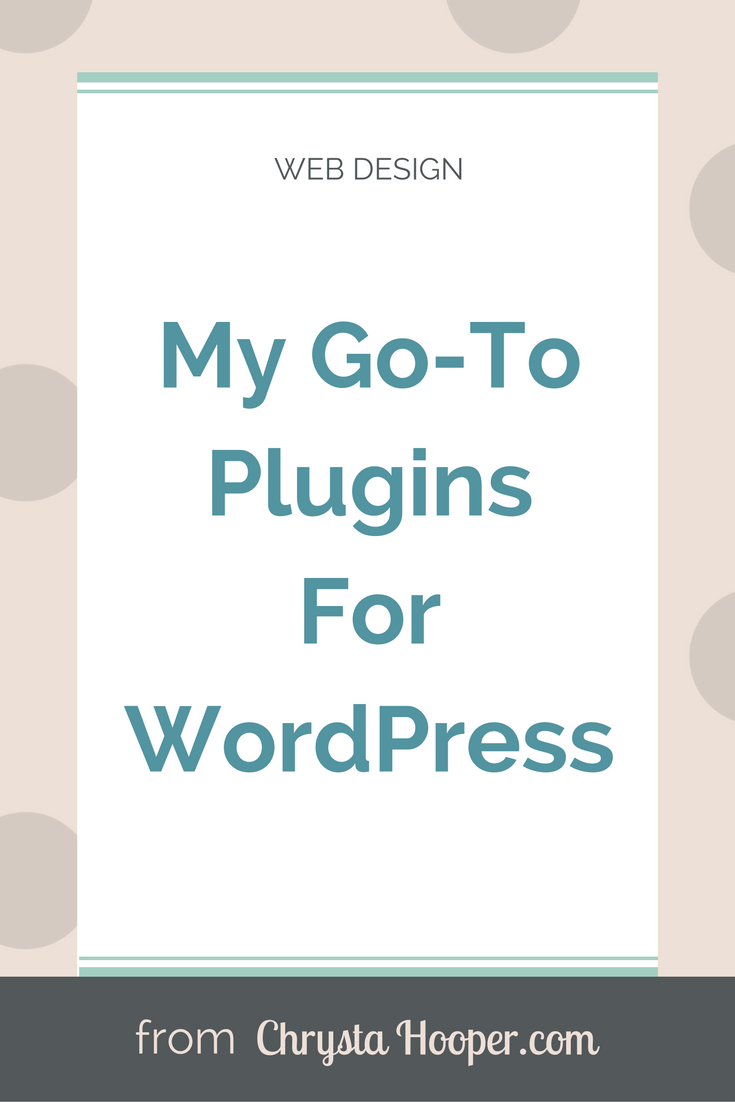 This is my FAVORITE search engine optimization (SEO) plugin. It's pretty easy to use and there are awesome tutorials out there if you are new to SEO. This is my favorite tutorial by Yoast themselves. It's an easy to understand guide of how to change settings in WordPress to optimize your website.
Plugin link: https://wordpress.org/plugins/wordpress-seo/
This plugin lets you see your google analytics and real-time statistics in your dashboard. I think I've used this in every website I've created since learning about this plugin. It's an easy way to see your analytics without having to leave your website.
Plugin link: https://wordpress.org/plugins/google-analytics-dashboard-for-wp/
I've only recently started using this plugin but so far I really like it. I needed to find a plugin that could backup and restore a WordPress site and would automatically backup the site and store it in another location. This plugin does exactly that. There is a free version (which is what I am using) and a paid version. The paid version does offer a lot of extra features, but so far I haven't had a need for them. If you are interested in the difference between the paid and free versions, this comparison does a great job of showing the differences.
Plugin link: https://wordpress.org/plugins/updraftplus/
Bloom is a simple email opt-in plugin built to help you grow your mailing list. This plugin is developed by Elegant Themes and they develop themes and plugins for WordPress websites. This plugin is really easy to use and is very customizable. The only downside is that you can't purchase just this plugin, you need to subscribe to the website to get access. If you only want the one plugin, financially it doesn't make sense. If you develop a lot of websites it might make sense for you to subscribe.
Plugin link: https://www.elegantthemes.com/plugins/bloom/
Monarch Social Sharing Plugin
Monarch is another Elegant Themes plugin. It's a great social sharing plugin. You have a lot of options as to what platforms you want people to share on, the style and location of the buttons, as well as when the viewer sees them.
Plugin link: https://www.elegantthemes.com/plugins/monarch/
Cognito Forms is one of my favorite form builders for WordPress. I've used many different form builders (and there are many good ones out there) but this one is my favorite so far! You have so many options for what you can add into the form, it blew my mind away. I found it VERY easy to use and didn't require any coding.
Plugin link: https://wordpress.org/plugins/cognito-forms/
This plugin is awesome for protecting your blog against spam. Before I started using this plugin, I'd receive notifications for comments and get really excited only to find out they were spam and not genuine. This plugin removes that headache! Now only comments that are actually made by people show up in my comments section.
Plugin link: https://wordpress.org/plugins/akismet/
This plugin makes it so easy to have an under construction page on your website while you are working on it! I know there are a lot of ways to do this, but I love how simple this plugin is. This plugin will display your under construction message to the public while you are working on your website. It is really easy to turn it off and on which is awesome if you need to quickly turn it on or off.
Plugin link: https://wordpress.org/plugins/easy-pie-maintenance-mode/
My life became a lot easier when a friend told me about this plugin. Basically, this plugin makes a child theme of the theme you want to use. When you customize the child theme instead of the theme itself, you can update the main theme and not worry about your customizations being lost because you updated the theme.
Plugin link: https://wordpress.org/plugins/child-theme-configurator/
What plugins do you use on your WordPress website? Do you have one that you love that I didn't add to this list? I'd love to know in the comments!