How to be Proactive with Your Website's Security
Website security isn't something that a lot of people want to discuss. It's not exactly exciting or fun but it's important to be proactive about keeping your site secure. My hope is that you will never experience a problem with this but it's always better to be safe rather than sorry. Most of the tips I'm going to share with you are pretty simple to do and won't take a lot of your time. These tips are for WordPress websites, but the ideas apply to other platforms as well.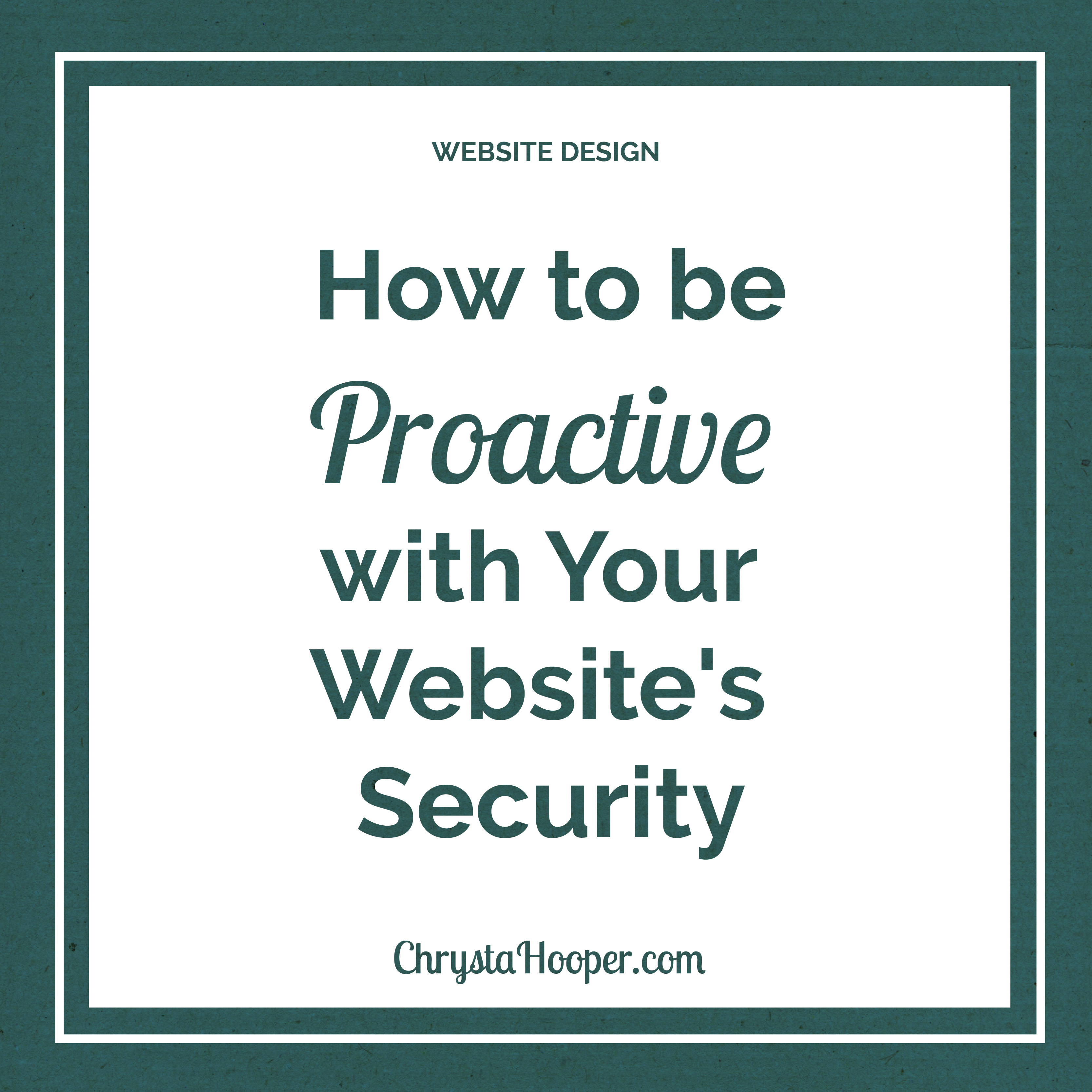 1. Keep your themes and plugins up-to-date
This is something many people don't do consistently thinking it's not critical. Leaving plugins and themes on older versions can make it easier for someone to hack into your website. While being behind on a few updates doesn't mean your website will be hacked tomorrow, it's better to play it safe and keep them updated.
2. Do routine backups of your site
I can't express how important this is!
It's always good to have a recent backup of your website in case something happens, you won't
be forced
to start from scratch
.
The wonderful thing about WordPress is that you can install a plugin to do the backups for you, so you set it and forget it
! You can also set up backups through your hosting account.
However
you decide to do it, you generally only need to set it one time and then it will
automatically
do the backups for you
.
Backups can
be done
monthly, weekly, daily – it
really
depends on how often you want to backup your website.
If you are only making occasional changes, monthly backups would
probably
fit your needs
. If you are posting on your website once a week, then weekly backups would suit your needs. You get the idea.
3. Install a limit login attempt to your website
This can be achieved through your hosting provider or through a plugin. I like to use Loginizer. This will limit the number of times anyone can try logging into your website. If they are unable to log into the website after a certain amount of attempts, they will be blocked from accessing your login page. This is to protect your site against brute force attacks when someone keeps trying username/password combinations to get into your site.
4. Always use the latest version of WordPress
For the same reasons you should keep your themes and plugins updated – you also need to do the updates for WordPress. Using an old version will only make it easier for someone to hack their way into your website. You will also miss out on the benefits of the updates if you leave it on an old version. Always make sure you have a backup of your website before updating WordPress. I've never had a problem when updating the platform, but this way you aren't worried while you are updating!
5. Routinely change your password
I realize no one likes changing their password, there are so many things you need to remember passwords for that it's hard to keep track of them all
. Many websites
are hacked
because someone figured out what their password is. Changing your password on a regular basis will make it difficult for someone to guess what it is.
You shouldn't use the same password for your website as any of your other passwords. Too many people do this and it
just
makes it easier to guess your passwords.
6. Be Careful of who has access to your website
Don't give anyone and everyone access to the backend or hosting for your website. It's important to trust the people who do get access to the website. I also think it's important to give someone access to what they need. For example, if a friend is contributing to your blog consistently and they are adding blog posts why would they need administrator level? Make things easier for them by only giving them access to what they need!
So there you have it! 6 simple ways to be proactive with your website's security. There are many ways to keep your website safe that I didn't include in this post and nothing will guarantee that something won't happen to your website. These are things that I believe are easy to do and helps put your mind at ease. Do you have a tip that I didn't cover? Share it in the comments!